How far in advance do I need to reserve my booking?
There is no requirement for how far in advance you should reserve your booking. However, the sooner the better! We have had bookings reserved anywhere from 24 hours to 18 months in advance. About 6 weeks in advance is most common. Especially in peak Spring and Summer seasons, dates are booked up quickly. Reservations should be made as soon as you decide you would like to have Joyful Canvas at your event. The longer you wait to book, the more chance that date may no longer be available.
What kinds of events do you typically provide your services for?
We provide our services at birthday parties, company picnics, grand openings, promotional events, "kids' night" events, school events, church events, fundraisers, fairs, festivals, block parties, expos, carnivals, family reunions, holiday parties, dances, and more.
Are the paints you use safe for sensitive skin?
The face paints used by Joyful Canvas are hypo-allergenic makeup, made for use on the skin, with FDA compliant ingredients. Especially at a young age, some few people may have very sensitive skin which any makeup product can trigger to react with redness, swelling, or itching. When in doubt, an arm painting can substitute face painting, or a patch test on the inner wrist can be done at least 15 minutes prior to face painting, to see if there is any sign of skin reaction for the person with sensitive skin.
What do you need provided at the event?
There may be details to work out specific to your event, but these are the basics:
A workspace that has:
-fair lighting (not on a dark dance-floor with strobe lights)
-moderate noise level (not right next to a loud speaker)
-friendly temperature (Between 60 and 80 degrees is perfect)
-overhead shelter (protection from excessive sun and/or precipitation)
We bring the stuff! Table, chair, all supplies. We can provide a canopy tent at an additional charge. Let us know if you are short on space and would like us to use an already-present table and tall chair. That works too!
I found an artist who charges less than you. Can you match that price for me?
Many factors play into pricing, from an artist's professionalism, experience, speed, talent, and dependability, to the quality and safety of the products used. We do not practice price-matching.
Can you donate your services or provide a discount for our charity event?
While Joyful Canvas is a supporter of charitable organizations and community projects, we do not have the resources to donate or discount services for all who request it. With that in mind, if you are hosting a charitable event and do not have a budget for entertainment, you may inquire.
If you are seeking professional entertainment for your charity event but don't have it in your budget, please consider seeking entertainment sponsorship. Local businesses are often delighted to sponsor entertainment for your event to share their good will with the community.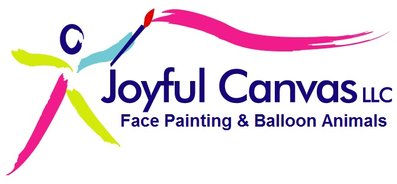 Frequently Asked Questions